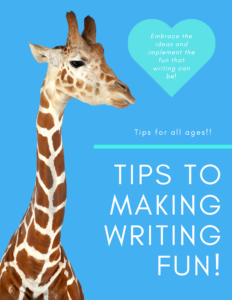 Tips to Making Writing Fun! Writing is exciting, so let's make it fun!!!
Writing is an incredibly important and useful skill. It's hard to think of any profession that doesn't involve at least some writing! Whether you are a doctor, teacher, scientist, or entrepreneur–writing is essential for keeping track of your thoughts and conveying them to others.
There are so many ways to make it enjoyable: you can make it into games, write about topics that interest you, keep a journal or diary of your thoughts, practice free writing, create stories, and much more! Experimenting with different techniques and ideas is one of the best ways to get into a comfortable and fun writing space. So don't be afraid to explore new possibilities – you never know what amazing things could come out of it!